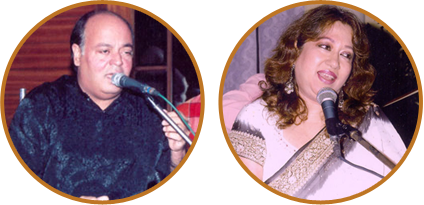 Sabir has also earned wide reputation as a composer and Singer of Ghazals, and has rendered a vast number of Ghazal recitals all over India and in Foreign Countries i.e. Far East and U.K. He also received the tile of Ghazal King and Composer in 1983 from Jakarta Music Assocition, Indonesia.
Sabir's recital both as a soloist and as an accompanist was granted praiseworthy not only in India, but also in many countries abroad. He was invited in perform in Countries, like Japan, France, U.K., Holland, Germany, Belgium, Yugoslavia, U.S.A., Russia, China, Italy, Norway, Sweden , Thailand, Hongkong, Singapore, Taiwan, Pakistan , Bangladesh, Indonesia, Sri Lanka and Middle East Countries.
H.M.V. has released L.P. Disc and cassette of Ghazals composed and sung by Sabir Khan.
Aruna Kundanani is the perfect blend of traditionalism and modernism. She has stood the test of time with great elan and today she has survived the grind and evolved as a mellowed performer, just like sparkling wine which matures with age.
Her basics in Hindusthani Classical music were nurtured by stawarts like Usted Amir Khan, Ustad Dishad Khan and Ustad Ghulam Baqar Khan. Encouragement , she recived from husband Moti Kundanani but her best was yet to be discovered.
The renowned table player Usted Sabir Khan, who is also a gifted singer and composer recognized her immense potential. It seemed that Aruna's husky voice found the perfect in the Ghazal form.
The rigorous riyaz and taleem which shaped Aruna Kundanani as a vocalist, further enhanced a very unique tonal quality of her voice. Along with the familiar traits of a female singer, Aruna's voice carries a certain weight very much akin to classical artists. It is this frivolousness and dignity which have struk a perfect equilibrium. This is chromatic flavor in Aruna's voice was exploited by Sabir Khan and the due performed and earned plaudits along the path to success. Whether it was Aruna's magical voice which gave life to Sabir Khan's compositions or was it the other way round is something the duo themselves will decide but the critics and the discerning audiences have been enthralled by their inimitable style.
Subroto Roychoudhury, veteran sitarist expresses his valuable opinion- "When Aruna sings, music and poetry go hand in hand in perfect coordination to create a congenial atmosphere to the delight of Ghazal admirers."
She has been awarded 'A' grade from all India Radio and Doordarshan.
She has been invited as a judge in MOSAIC 94 organised by SKM.
The Sabir –Aruna duo and their group proved their mettle and were successful in presending a different style of Ghazal. This synthesis gave birth to a L.P. Cassette "Ghazal Mehak" in 1984 by HMV. Their latest creation is "Sainkron Dastoan in 1999". They have performed for all the prestigious organizations viz. Lions Club, Rotary Club, Jaycees, Spastic Socity, Ordinance I nstitute at Fort William and other cultural clubs and institions of high repute. She has the distinction of performing at Raj Bhavan for the Governor of Bengal.
Aruna has toured extensively in countries such as Bangladesh, Taiwan, Bangkok, Singapore, Japan, China, Indonesia, England, USA, Dubai, Surabeya Jakarta and Meden.
Queen of Ghazal awarded in Jakarta is one of the numerous awards Aruna has been honoured with.
Another distinctive feature in Aruna's gayaki is her involvement with the poetry she sings. Her rendition enriches the lyrical quality of the ghazal. She pays particular attention to the dictions and ensures that her performances are not overshadowed by any cheap gimmicks.
The music in her Ghazals plays an equally important part. The compositions are very rhythm oriented and involve complex permutations and combinations which are deceptively simple, thanks to the involment of Sabir's creativity.
Fundamentally a Ghazal singer, Aruna is equally at ease with other genres such as Geet and Bengali Songs. Calcutta being her home town, the Bengali language has a special place in her heart.
After innumerable successes that have made Aruna so well endowed, one can say that the best is yet to come.